Vanessa Hudgens is on the cover of December Harper's Bazaar Arabia. She unleashed her sexiness in the Dubai-based version of the magazine.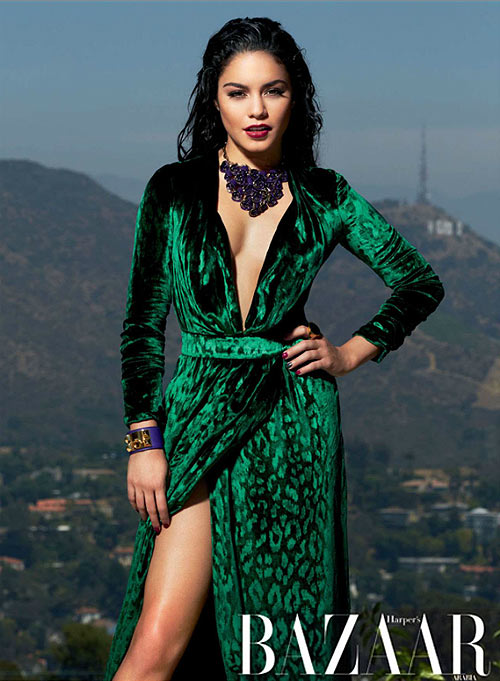 Vanessa Hudgens, the 23-year-old star simply looks stunning in her photo shoot.
In an interview with the magazine she talks about her career in Hollywood and her experience in her upcoming movies Spring Breakers and Gimme Shelter.
A few highlights from Miss Hudgens' interview are as follows. For more, be sure to pay a visit to Harpers Bazaar Arabia!
On changing her look for "Gimme Shelter":
"I had to chop off all my hair and live in a pregnant woman's shelter for about two weeks before we even started filming to get me in my headspace. It was a bit of a shock. It's a world that I've never had a chance of looking into, let alone be a part of, and I remember calling my mom on the first night, and I was like "Mom, what have I gotten myself into?" It was a lot of fun after I got past those initial feelings of shock at the environment."
On her film "Spring Breakers":
"I've never been on spring break, I've never gone to college or had this group of girlfriends to go away with. I became very, very close with these girls. We had such an amazing experience together; it felt like it was our own little spring break. We allowed ourselves to let loose and push each other and see how far we could take it."
On her her idol, Meryl Streep:
"She has such an amazing, long career, and that's the goal – a long career! She has done everything there is to do under the roof, and been brilliant at everything she does. She's the master of her craft – and that's her priority – her craft. She is just astonishing."
Check out more hot photos of Vanessa Hudgens from Bazaar Arabia.