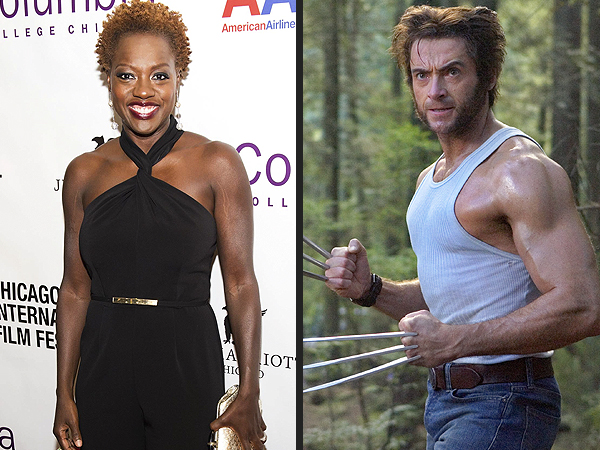 When it comes to shaping up for her latest role, Viola Davis is turning to one of the hottest bodies in Hollywood for inspiration: Hugh Jackman.
The actress says she's following the so-called "Wolverine diet" to play Susie Brown in the upcoming James Brown biopic, Get on Up.
"[I'm] losing a little weight. When I say 'a little,' I mean 'a little,' " she told PEOPLE Saturday at the Los Angeles Hammer Museum's 11th Annual Gala In The Garden. "I'm not a weight girl much."
Jackman's diet for the Marvel Comics franchise calls for limiting food intake to a period of eight hours every day while fasting the remaining 16 hours, according to the Oscar-nominated actress. However, she adds, "For eight hours in that day, you eat anything you want. They tell you not to binge, but you choose those eight hours."
On the menu for Davis: "I'm a former 'big girl', and I like the fat burgers, the turkey fat burgers and the 'skinny' fries," she says. "That being said, I eat a lot of low-carb pasta."
Her extreme diet may be running its course on her body, but it's not affecting her emotions.
"I'm not a cranky person," she says. "I'm one of those people that will wake up in the middle of the night and dig through my drawer for some candy – and put it in my mouth and chew it as I go back to sleep."
Source: People.com