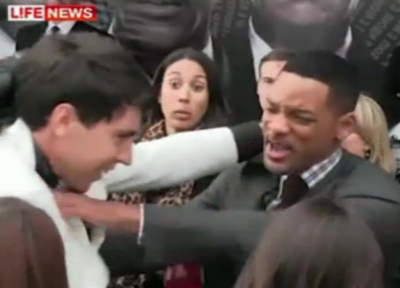 Will Smith sure lost his cool today as he slapped a reporter in the red carpet under full media surveillance. But before we trash Will Smith, he did the right move, the male reporter tried to kiss him.
All this drama happened in Mascow, Russia at the premiere of Men in Black 3.
As Will Smith was walking down the red carpet an over zealous Ukrainian reporter tried to kiss him.
Though Smith was caught off guard he immediately pushed away the smoochy journalist and then slapped him and asked, "What the hell is your problem, man?"
Only after Will Smith got to notice everything that he realized that the reporter tried to kiss him on the lips and added, "He's lucky I ain't sucker punched him."
Wow, everyone would have thought this should have happened to an actress or a female star.
Looks like Will Smith is getting really popular among closet men.
Watch the video below:
Will Smith definitely did the right thing. Don't you guys agree?