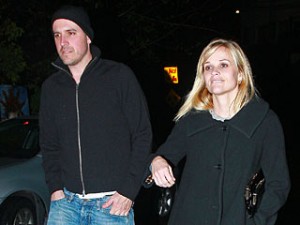 Reese Witherspoon and Jim Toth are engaged to be married, their representative confirmed to Us Weekly.
The pair began dating in January after Witherspoon broke up with Jake Gyllenhaal. Toth, 40, is an agent at Creative Arts Agency, where Witherspoon is a client, though not his.
Witherspoon was married to actor Ryan Phillippe for seven years — they divorced in 2008 — and the pair have two children: daughter Ava, 11, and son Deacon, 7.
Witherspoon opened up about the divorce to Entertainment Weekly earlier this month, saying:
"It definitely sometimes feels like a suit that I wish I could zip off. But I don't feel bad about any of the things I've gone through, whether it's divorce or breakups or anything like that, because that's all part of the life journey, and I have those experiences just like anyone else. And I think it deepens what you tap into creatively."