Alien invasion film "Battle: Los Angeles" waged a successful campaign for North American movie supremacy over the weekend, collecting $36 million in a march to the No. 1 spot on box office charts.
The movie, which tells of a group of U.S. Marines defending the city from otherworldly beings, trounced two other new films in theaters, thriller "Red Riding Hood" and animated "Mars Needs Moms," which looks to be a costly flop for the Disney studios, according to studio estimates on Sunday.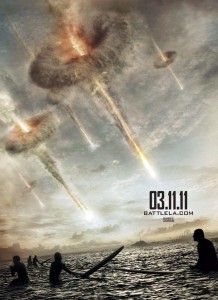 "Battle: Los Angeles" also opened in 33 overseas markets, where it took in $16.7 million to boost its worldwide haul to nearly $53 million over its debut weekend in theaters.
"It hit the high end of our expectations," said Rory Bruer, distribution chief for the film units of Sony Pictures, which released the movie. He called the opening a "great result."