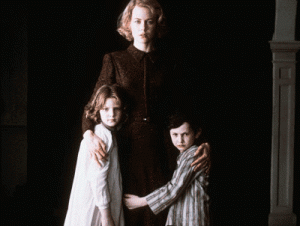 This will seem to be little older movie to make review of. But i would certainly acknowledge to viewers , those who didnt see this movie yet, its worth to watch it.
After seeing this movie a month back in DVD, i went mad on myself on how could i miss such a beautiful movie as this.
About the movie
The Others(2001) movie has Nicole Kidman in the lead role. I must confess i watched this movie only for Nicole Kidman but couldnt resist the perfection of the script that revealed upon.
The movie starts with a Mother and her 2 children. The Movie dates itself around 1940's, a time of Nazi scare among England.
Speaking on the movie, the mother (Grace Stewart) and her children (Anne Stewart and Nicholas Stewart) are living in a huge home which is always covered with curtains due to the fact that the children had some kind of weird skin disease that would kill them if they were exposed to sunlight.
The Father is out for war to serve his duty for the nation.
The movie continuous with the incoming of 3 new members who were supposed to be seeking a job as a house keeper. Grace stewart allows them to stay and work for the home.
As days passes by, Grace Stewart becomes aware of an alien presence in the home which they often refer to as "The intruders".
Boy, the movie goes so well with the acting. The children were absolute amazing in their performance.
At the end of the movie, the mother and the children discovers the fact that the Intruders are humans and they themselves are dead souls living in the home.
Isn't that a beauty. The film began's with the series of incidents that tells the viewers on a possibility of ghost present in the building only to conclude in the end that the mother and the 2 children were the ghost.
I enjoyed it.
I rate the movie  9.5 out of 10.
A must watch movie