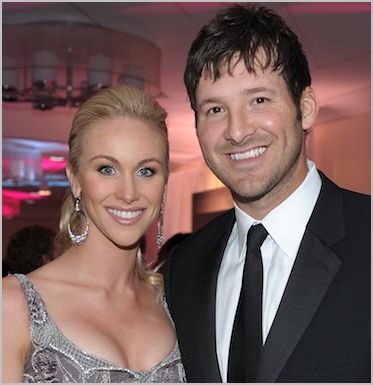 NFL quarterback Tony Romo and girlfriend Candice Crawford tied the knot at Arlington Hall in Dallas, Texas on Saturday evening, People reports.
Over 600 guests were invited to the nuptials including Crawford's older brother — Gossip Girl's Chace Crawford — many of Romo's teammates and Dallas Cowboys owner Jerry Jones, who received special permission to attend the ceremony during the leagues' ongoing labor dispute.
"Tony picked out every song, and when it plays, and what the keynote things are," wedding planner Todd Fiscus said in a WFAA-TV report. "At the end of the ceremony, we have a lot of special effects not usually played into a wedding ceremony." A short ribs and a pizza bar were offered to guests at the reception.
Romo and Crawford have been dating since been dating since September 2009. Romo proposed in December on Crawford's 24th birthday.