The sequel to the Blockbuster Independence Day  movie is all set to hit theaters on July,2016. The movie titled Independence Day Forever is to be released as two parts with parallel history story line.
The movie plot which is not fully completed forecast the possible future where the human race has learned very much from the alien technology which they confiscated 20 years ago during the alien invasion of Earth as seen in Independence Day.
"The humans knew that one day the aliens would come back. And they know that the only way you can really travel in space is through wormholes. So for the aliens, it could take two or three weeks, but for us that's 20 or 25 years", says Director Emmerich who co-wrote Independence day
"It's a changed world. It's like parallel history. [Humans] have harnessed all this alien technology. We don't know how to duplicate it because it's organically-grown technology, but we know how to take an antigravity device and put it in a human airplane."
Emmerich also revealed that the sequel will be having new cast members on board.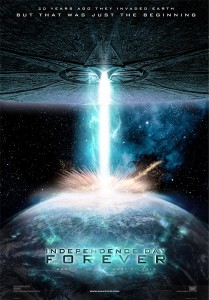 "It's still some of the same characters, but also new younger characters; it's a little bit like the sons take over. The first one ends on a little success, but only enough to give the humans hope. And then in the second one they free themselves again [from the aliens]."
Emmerich and Dean Devlin have decided not to sign up Will Smith for the sequel because they felt he is too expensive.
During an interview with NY Daily News, Director Roland Emmerich added,"Will Smith can not come back because he's too expensive, but he'd also be too much of a marquee name. It would be too much. We have like maybe half of the people that you know would know from the first film (in the script) and the other half people who are new."
We sure hope  Emmerich knows what hes doing. Keeping a brand name such as Will Smith to any project would sure add its values.
So folks, are you excited with the sequel to the phenomenon Independence day film. Share with us your views.