Jim Marshall popularly known as the Lord of Loud the pioneer on guitar amplifiers has died today. He was 88. He his known to have worked for some of the greatest names in Rock Music.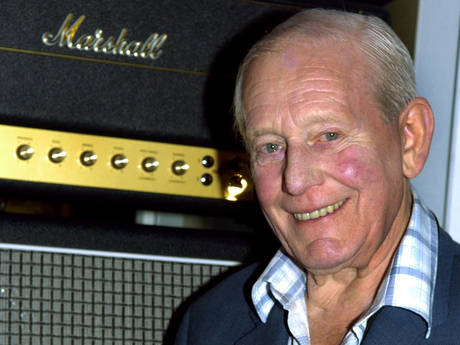 A spokeswoman for the company he founded said he passed away in Milton Keynes, southeast England, on Thursday morning. She could not confirm reports that he had been suffering from cancer and had a series of strokes.
"It is with profound sorrow that we announce the passing of our beloved founder and leader for the past 50 years, Jim Marshall," said a statement on his company's website.
"While mourning the Guv'nor though, we also salute a legendary man who led a full and truly remarkable life."
Tributes poured in for a man credited with helping to shape the sound of guitar rock.
"The news of Jim Marshall passing is deeply saddening," former Guns N' Roses guitarist Slash said in a message on Twitter. "R & R will never be the same w/out him. But, his amps will live on FOREVER!"
His company said in a written tribute: "Your memory, the music and joy your amps have brought to countless millions for the past five decades and that world-famous, omnipresent script logo that proudly bears your name will always live on."
Marshall is revered as one of the four forefathers of rock music equipment along with Leo Fender, Les Paul and Seth Lover.