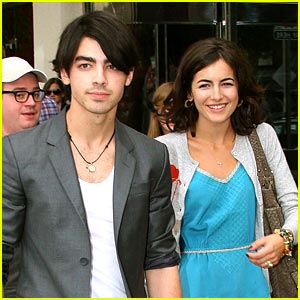 Oh its a sad story for Joe Jones. His brother Kevin though had managed to wed Danielle, but it seems Joe Jones has tough times.
Wondering what i am blogging about, well the Jones Brother's Joe has split up with his girl Camilla belle after going on with her for 8 months. It seems that they made up the decision together.
Camilla Belle Close aid confirms that, She has indeed split up with Joe and will remain friend with him.
Now come on, we know what that meant dating, splitting apart saying remaining friends and stuff like that. Its unfair really

Joe started on dating her after her film of  10000 BC saying she is pretty.
After this Split up, In an concert of Detroit Jones brothers has indeed  changed a line of the song "Much Better" from "Get a rep for breakin' hearts, now I'm done with superstars" to "Get a rep for breakin' hearts, now I'm done with movie stars."
Comon Joe, your young, talented, smart guy get along from this incident. In future select what your heart tells you to do . This will be better way to get along your girl more closer.