Megamind (2010) is an animated, comedy, super-hero movie released back in December 2010. Megamind is one of those movies where an adult and kid enjoy watching together. Its kind of taking us back to the Superman stuff.
Let me begin the review with the storyline:
After super-villain Megamind (Ferrell) kills his good-guy nemesis, Metro Man (Pitt), he becomes bored since there is no one left to fight. He creates a new foe, Titan (Hill), who, instead of using his powers for good, sets out to destroy the world, positioning Megamind to save the day for the first time in his life
Let me take a complete analysis of the movie.
The movie starts with  Megamind ( the villian guy) falling from the sky. The story begins with Megamind's emotion and a flash back of his life that led him to the current drastic situation.
Megamind and Metroman birth
Megamind and Metroman( super hero) came to Earth from the same dying planet. Right from leaving their home planet, both the kids fight with each other. Let it be the spaceship or the kinder Garden school, they always fight.
Megamind describes Metroman as a good looking face that always gets good luck. He (megamind), however, is always unfortunate and end up in a wrong place.
Megamind grows behind the bars in Jail, whereas metro man gets good life with rich adopted parents.
The story now shifts with both the gentleman's becoming young.
Megamind loves to fight with Metroman and is always on the search to find out ways to fight him. As the usual things continue (Megamind disrupting peace and Metroman saving the city) , Metroman becomes tired of saving-the-day  stuff  thereby faking his death in the hands of Megamind.
Megamind who has never won anything in his life becomes shock on knowing the very fact that he actually killed Metroman.
City Ends up with the Bad Guy
People of Metro city are now enslaved in the kingdom of  Megamind who himself blames of finishing Metroman.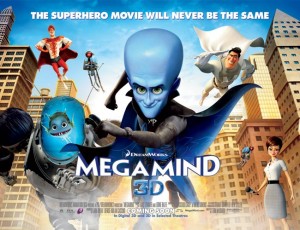 As days passes by, Megamind misses Metroman more than the people, with always quoting "I have no one to Challenge"
Love develops between Megamind and Roxanne Ritchie
Meanwhile, Megamind falls in love with a local journalist Roxanne who could never forgive Megamind for what he has done to the city.
Megamind uses technology to change his self and impersonating others look to meet up with Roxanne. During a date with Megamind, Roxanne discovers the truth about Megamind. she leaves Megamind questioning how could you think i will be with an Evil person?  for which poor Megamind has no answers.
Megamind creates a Hero
Megamind creates a hero so that he could fight with someone and makes his life bad one once again. He accidently makes Hal Stewart  ( a guy who works with Roxanne and secretly loves Roxanne), a superhero naming him "The Titan".
This was Megamind greatest mistake, as Hal Stewart turns out to be a villian and the destroyer.
Now, its all left with Megamind to save the day with no Metro man around.
Megamind Becomes a Hero
Megamind with the return of Roxanne on his side, faces Titan. The rest of the movie is very nail biting with comical stuff around.
In the end, the climax keeps the audience waiting whether Megamind saves the day or not which he actually does.
The movie is a great  entertainer and i personally rate the movie   9 out of 10.
The Movie is directed by Tom McGrath.
Brad Pitt has voiced for Metroman and Will Ferrell has voiced for Megamind.  Tina Fey has voiced for Roxanne whereas Jonah Hill has done it for Hal Stewart