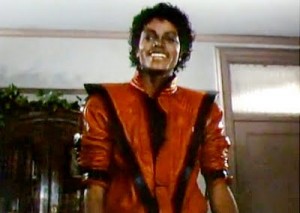 Michael Jackson's epic thriller jacket is all set to be auctioned this June 25, 2o11 at the Julien's Auctions Gallery in Beverly Hills.
The Jacket that is probably the most recognized cloth in the whole world which drove  fame and fans to the legendary late Michael Jackson has finally ended up into auction doors.
Who gave  the Jacket for auctions
Who Is behind the auction? If you have this question then you should be aware that Michael or his family has no part in this auction
In fact, Michael is no longer the owner of the Jacket itself. He  gave the black and red style jacket  to  his designers, Dennis Tompkins and Michael Bush, who worked with him on a number of outfits during his career.
A $200,000 worth Jacket

According to the auctioneer, the jacket is expected to fetch at-least a minimum of $200,000 and may extend upto $400,000.
He added, "We know of no other jacket that is so easily recognisable or one that so altered fashion history. It is the most recognised and significant piece of pop culture."
A portion of the proceeds from the sale of Michael Jackson's "Thriller" jacket will benefit The Shambala Preserve current home to Michael Jackson's two Bengal tigers, "Thriller" and "Sabu". The two tigers have been living at The Shambala Preserve since 2006 when Jackson left Neverland Ranch. Shambala translates to "a meeting place of peace and harmony for all beings, animal and human."
Other items in the sale include the shirt Michael wore in the video to his duet Scream with sister Janet and a black sequined glove the Man in the Mirror star wore at the 1984 American Music Awards, which it is thought will sell for up to $30,000. Another item is a wig worn by the star, expected to fetch up to $6,000.
There will not be a single music lover who cannot identify the epic Thriller Jacket. And that makes the auction more  special.
We might be able to see millions of  MJ  lovers storming to the auction to get a glimpse of the Jacket which their Hero wore.