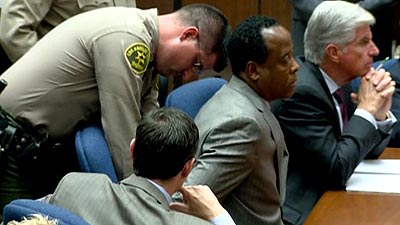 Nothing surprising in this news. We all expected this verdict.
Murray faces up to four years behind bars when he is sentenced on November 29 but may spend only months in Los Angeles' overcrowded cells.
Murray pleaded not guilty to giving the "Thriller" singer a fatal dose of the powerful anesthetic propofol — normally used in surgery — that was ruled the main cause of his death at the age of 50.
Dr. Conrad Murray, 58, was led away in handcuffs after the jury in Los Angeles reached a unanimous verdict. Dozens of fans outside the court erupted in cheers and some burst into tears.
"Justice was served. Michael is with us," said Jackson's brother Jermaine.
Trial watchers said the guilty verdict was almost assured.
Prosecutors were required to prove only that Murray was reckless in his care. The judge told jurors the doctor could be found guilty even if the jury believed Jackson gave himself the propofol, as long as such a possibility was foreseeable.
"The prosecution did a great job of creating a portrait (of Murray) that asked 'Is this how someone would have acted if he was responsible?'" said Marcellus McRae, a former federal prosecutor who is now a trial lawyer with the New York-based law firm Gibson Dunn.