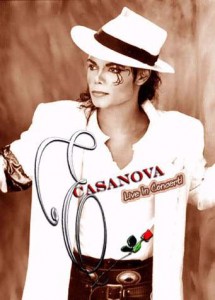 Guys, we all are aware about the concerts that MJ agreed. Though few people close to him complained that, he was under stress to perform such a big concerts. But still he agreed.
Rumors are out that, "Michael Jackson wanted to perform the Concert not for the people but for  his Kids. Yeah, he wanted to show them How good is their Daddy in dancing and how crazy his fans love him". Even MJ had plans to perform a song with his son Prince Michael I

The saddest part is, though MJ was unfit, He worked real hard to meet up the critics challenge and perform his own unique step that is ofcourse Michael Jackson's Moon Walk. He was earlier criticized by the critics who said MJ has forgotten Moon walk and he is not good anymore.
Along with the moonwalk surprise to his fans, he also tried to perform the Robot steps in the concerts that would have been happening now if he had not died. Man he was the real king in performance and handling challenges he faced.
As all of his fans tribute to him, I searched his video's online and i came across MJ's practice session. I learned from his face expression that he was Focused but tired and even he had something tied to his stomach?
As a fan of Michael Jackson, I am missing him and his brilliance.