The blame is on the economy for the demise of Las Vegas casino Sahara. Opened in 1952, the Sahara hosted everyone from Elvis Presley and Jerry Lewis to Frank Sinatra and the Beatles in the 1950s and 60s, and their photos still decorate the walls above the reception.
The spiraling economy has hit Las Vegas the worst with most casinos failing to make ends meet. It has now reached a stage of closing one of the oldest casino. A casino that marked the start of an new era in Las Vegas.
The death knell was sounded in March, when its owners since 2007, SBE Entertainment, announced that the casino-hotel complex with its more than 1,050 staff was no longer a viable business.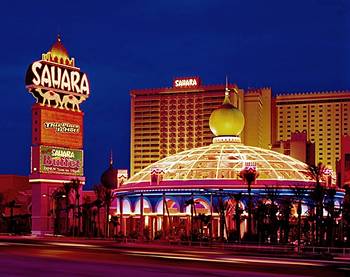 "In a way it was a surprise, but in a way it wasn't," Michael McLendon, a supervisor in the casino's poker room — already deserted ahead of Monday's final day — told AFP.
"The way things were going, with the economy and all, we felt something was happening. We just didn't know what it was," he said. "I'm retiring. I'm done. There are not too many people out there looking for a 66 year-old anyway."
And with hard times hitting Vegas even harder than most US cities, the prospect of finding other jobs is not good.
"Some dealers here, just like porters, bartenders, cocktail waitresses, they found other jobs. But the majority didn't, because it's not a good time, now in Las Vegas, because of the economy," said McLendon.
Sheryl Reed, a waitress in the Nascar Cafe for 11 years, hasn't found anything. "It sucks ..You have to be in your 20s to work in Vegas, now. I left applications, they say they'll call you, but they never call," she said.
In the 1950s the "Rat Pack," a group of actors led by Sinatra but also including Dean Martin and Sammy Davis Jr., appeared in numerous Vegas shows and several films, including the original "Ocean's Eleven."
For French retirees and Strip habitues Brigitte and Daniel Quentin, who have already seen the demise of the Dunes, Stardust, New Frontier and Sands, the end of the Sahara is another body blow.
"We've stayed here several times and it is distressing," said Brigitte. "We knew our machines and the staff. It was a hotel with a human dimension, it had warmth."
It is a view shared by Tracy Reed, a Californian who has visited the Sahara four or five times a year for 15 years.
"It was like home. The other hotels are way too big. There's no contact, you can't meet people, get to know them. And here you got to know the employees, they got to know you by name, it's just very homey," she said.
In his little tattoo parlour, opposite the reception, Eric Ayala also voiced the hotel staff's emotional attachment to the hotel.
"This morning, we just got an employee who wanted a tattoo of the coin of the casino on his arm. He was sad, you know, he's been working here all his life".