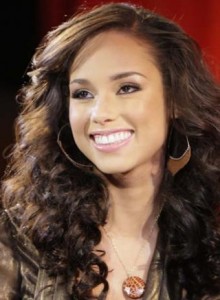 Singer Alicia Keys is considering adopting a child from Africa after a series of charity trips left her wanting to help the continent's orphans.
The 29-year-old, who is expecting her first child with producer fiance Swizz Beatz later this year, says she's already looking to provide a sibling for the baby, reports mirror.co.uk.
The singer regularly visits Africa in conjunction with her Keep A Child Alive charity, which helps youngsters whose parents have died of AIDS and the heartbreaking trips have left Keys wanting to help out.
'Adopting is definitely not out of the question. I would love to figure out the ways that could work for me,' she said.
'I felt I wanted to scoop up the children I met in Africa and take them home. At this point I kind of feel I have amazing brothers and sisters in Africa. Hopefully I can be their big sister who they know they can depend on and will always be there, fighting for them.'
'The people I met last time I was in Africa inspired me more than anything in my life. I cried a lot. It was extremely emotional and it changed me. It was heartbreaking but also heart lifting,' she added.