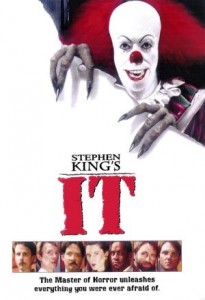 It 1990 is generally a Horror ,thriller movie. Well taken by the Director  Tommy Lee Wallace. The Film is written by Stephen King and was released in 18 Nov 1990.
Movie Tagline: " The Master of Horror unleashes everything you were ever afraid of."
About Movie:
The movie starts with the mysterious killing of the Kids in the place called Derry. The Police were left with no clue on how the killing took place.  A librarian named Mike fears that this killings is the work of   "It" and calls back his friends who are located at different parts of states stating "You made a promise to come back". The first part of the film goes in the flash back of each of the 7 friends thinking about the town and the killings that took place in their own childhood at that very place.
The worst affected between the friends is the guy named Bill who lost his  brother George when he was kid at Derry. The friends at the childhood discover  the person who kills all the children.They found that its a monster who takes a shape of clown. They  named  the clown  "It". The clown shows itself  once every 30 years and kills the children of the town.
The separated seven friends reunite expect 1 friend who was killed by It. And the rest of the movie  shows how they face the horror and triumps it. This film is a good film to watch.