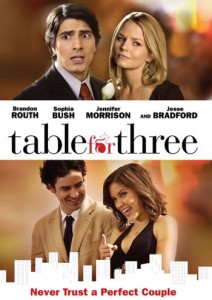 Overview:
Tagline:       Never Trust A  Perfect Couple
Genre:         Comedy, Romance
Director:    Michael Samonek
Movie Thoughts:
This is the most unusual movie i have ever seen. It will make you laugh more than you will. This movie revolves around 4 people. Scott teller, a home based job worker, feds up with his way of living after his girl friend leaves him. Unable to control the hard time, he decides to move-in a room mate.
In his search for new friend he ends up meeting Ryan and Mary a couple who seems really comforting to him. He decides to call them up and live with them. All goes well for them, until Scott meets up Leslie. Here the fun part starts.
And Scott notice a peculiar behavior between Ryan and Mary and he finds out that there is something really weird with the couple.In his search for the reason why the couple dont fight, he finds out that he is the new scapegoat for Ryan and Mary.
The couple fears the rift in  their relationship by playing safe always and becomes a barrier for Scott and Leslie dating. This story ends up a dramatic manner. Che, this is really good stuff . Worth to watch it.