The Hobbit There and Back Again title has been replaced with "The Hobbit The Battle Of Five Armies".
The fans are sure to be disappointed over this sudden and unexpected title change which goes side by side with Bilbo's triumphant adventure. However, director Peter Jackson has his say on it.
Initially, the movie was planned for two parts which was supposed to include both Bilbo's encounter with Dragon Smaug and the Battle of five armies. As the plan to expand the movie into three parts came up, the title There and Back again would no longer serve its original purpose as the reference to Bilbo's brave encounter with Dragon Smaug has been covered up in part 2 The Hobbit – The Desolution of Smaug.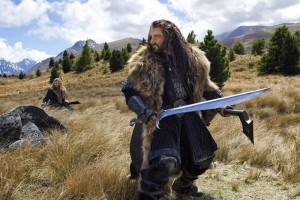 In order to provide justice to the part 3 movie of the Hobbit franchise, the title has been moved to The Hobbit The Battle of Five Armies in which the major plot will be unveiled where the five drawf kingdoms meet and encounter the elves and man and then eventually join hands with each other to oppose the common enemy – Sauron and his Army.
Still, I felt Jackson should have sticked to the original title  which is referred in The Lord of the Rings – The Fellowship of the Ring.
What do you think folks? Is director Peter Jackson is right to have the title changed? Share with us your views.