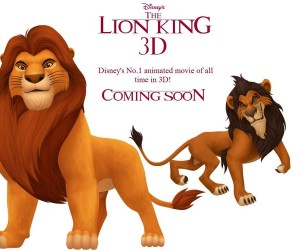 Hakuna matata!  "Leave the Past Behind you".  Is not the Slogan for Disney who is planning to release the Lion King movie in 3D this year.
Wow that sound amazing. The  most admired and loved king of the Jungle Simba is back to take his throne in the valleys of Pride Back  in cinemas near you.
I say, if Simba is returning back to theaters, then we should definitely put Hakuna Matata behind us.
Lion King, the tale of an young cub Simba who was tricked into believing by his uncle Scar that he  killed his father mufaza , who  runs away from his land to far away place and grows up with Timon and Pumbaa only to learn later about his responsibility in the circle of life. Who then  returns back to find the true murderer of his father  and take his rightful position.
Ah,the old memories of my young days is back.  I loved Lion King as a kid and still love it.
Lion king is one of those  animated movie that touches one's heart emotionally.  The 2D  release of the movie in 1994,  grossed more than $783 million worldwide, becoming the most successful film released that year, and it is currently the 33rd highest-grossing feature film.
I reckon,  the 3D release will beat many more records than the 2D.
Al right, when is the Lion king 3D movie getting released?
Well, Lion King 3D is getting released on Sept. 16, 2011.
Enjoy folks.
I leave you with the Lion King 3Dtrailer