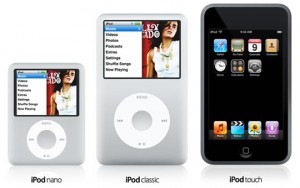 Got an ipod ? Now having trouble transferring your music playlists in Windows Media Player to your ipod ? I got a solution for you.
First of all you need to get iTunes to manage you music files in your ipod. iTunes automatically detects your iPod and lists the music files that are available in your ipod. You can easily transfer your music files using iTunes.
Download iTunes using any of the following methods :
You can download iTunes from Apple.com
Click here to Download from Apple website Directly.
Click Here to Download from an alternative server.
The installation is a very simple process and you can just slide through it.
I know the above section is quite useless cause everyone who owns a ipod will automatically have an iTunes installed in their computer. Anyway I just wanted to give some headstart in case you are really lost.
Now, the real pain is when you want to transfer your Playlists in Windows Media Player to your iPod. There is no direct way to do that as Windows Media Player and iTunes uses different kinds of playlist format. The good news is there is a way to transfer them without having to go through the painful process of adding all your favorite songs one by one again in iTunes to update in your iPod.
1. Open Windows Media Player and select the playlist you want to transfer to iTunes.
2. Now go to the file menu(Press ALT & F to get it). Now click on "Save now playing playlist as.." Now make sure you select the "Save as Type" as "M3U Playlist".  All your playlists by default are stored in My Documents -> My Music -> My Playlists folder.
3. Open iTunes go to File menu then "Library" and then click "Import Playlist" option. Now select the file you just saved. Browse to My Playlists and select newly saved file i.e., the M3U format file.
Thats it! All your playlist will now appear in iTunes. Now you can transfer them to your iPod.