Hours of commitment , yet i got a bug. What will i do now? Shall i report the seriousness to my boss or else i just stay quiet until my boss finds out. These are the following thoughts of an employee working in any organization.
Out of fear of being scolded or degraded, when an employee skips his boss about the occurring defect, the more problem will he be getting after the product is launched. The bug which he skipped will be very complex to rectify once the project develops.
On top of that the employee will surely be scolded of his lack of act when he first spotted the bug. So the better way is to stop the bug then and there itself.
Now that, you found out the bug! you have decided to communicate with your boss! But how???
Here i am giving you some tips on the communication part with your boss.
Know What You Want To Speak
The crucial part before speaking to your boss is Know What You Want To Speak. Frame the things that your mind speaks into a simple grammatical sentence and write it down.
After your utmost sure of what you want to speak . Go forward into your boss room.
Know When You Have to Speak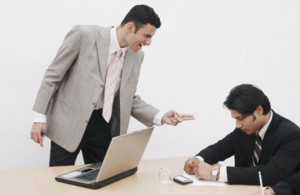 Yeah! Don't just rush into your boss room as if he is  a free guy or some office man. Investigate on what your boss is doing and find out his free timings. Cross check with your colleague about the timings. once you verify it enter your boss room.
Find out the Solution for the Problem
This will probably be the first thing which you have to do once you find a bug.  Dont just tell your boss and expect a solution. He may or may not know it.
Your bug or problem will be hard for him to understand at the very moment unless and until he goes through the code . Which will take away the precious production time.
Besides, like you, your boss will have more problems and responsibilities in his shoulder. In the end you will be screwed for the bug.
Instead of waiting for boss action, investigate on your own on how the error occurred.
Google it or by what ever means try and find out 10 possible solutions for the problem.Then visit your boss with the possibilities.
Now he will be happy to hear you out and willingly will help you out with best answer.
In the end, the most important factor that matters is the solution which you have found and how you communicate with the boss!