I came across a very interesting post in this site www.exercisetv.tv
If your the guy who wants to develop their abs and personality and stay fit, then this is the post you have to visit.
Below is the post as given by the site  exercisetv.tv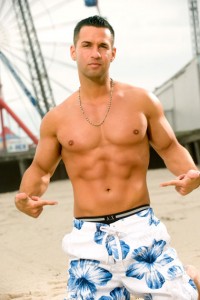 "Since the premiere of MTV's The Jersey Shore, Mike 'The Situation' has set the standard for what abs should look like in 2010. To help make your abs look like 'The Situation' of your hometown, try some of ExerciseTV's top ab workouts:
1. 6 Pack Abs with Cindy Whitmarsh
2. Quick and Incredible Abs with Top Exercise TV Trainers
3. Get Those Sexy Beach Abs with Tamilee Webb
4. Get Fit and Sexy Abs with YogaWorks
5. 2 Minute Abs with Voilet Zaki "
Try them all and tell us which video gives you results like 'The Situation'!