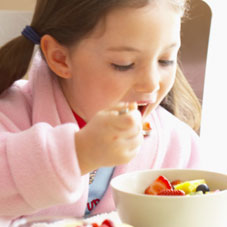 When it comes to kids, there is a unique problem all the parents face. Nope its not their playful nature, its about how to make them eat?
For years, this is the only common problem that makes every parent insane.
Well, we have small tips for you on how to confess your kids and getting themselves to eat the meal.
Instructions:
1) Make a schedule to feed your kid based on timings. Have a strict procedure to follow the timings regularly so that he gets hungry at the precise time and comes back to the dinning table for the meal.
2) Cook some meal that is liked by your kids. Encourage them and ask them what is their favorite food . By this they tend to adopt themselves into eating regularly.
3) Make an habit of  giving them healthy drinks.  Don't allow your kids to feed on junk food like Pizza or burger. Remember, we are facing a serious issue of obesity in kids. Its better that you don't encourage the habit of junk food to your child.
4) If nothing works, then make your child to play baseball or soccer.  It will make him hunger and he will get back to you for food.
Don't make them to play Play station, it will not make them hungry as they are not getting their physical body to work.
Lastly, Food alone will not help them to grow in health. Give them Fruits and healthy drink
Lol, i simply tell me kids if they want Ice cream then they should complete their meal. And guess what this works for me.