What is a bow tie?
According to Wikipedia, the bow tie is a type of men's necktie. It consists of a ribbon of fabric tied around the collar in a symmetrical manner such that the two opposite ends form loops. Ready-tied bow ties are available, in which the distinctive bow is sewn into shape and the band around the neck incorporates a clip. Some "clip-ons" dispense with the band altogether, instead clipping to the collar. The traditional bow tie, consisting of a strip of cloth which the wearer has to tie by hand, may be known as a "self-tie," "tie-to-tie," or "freestyle" bow tie to distinguish it from these.
Bow ties may be made of any fabric material, but most are made from silk, polyester, cotton, or a mixture of fabrics. Some fabrics (e.g., wool) are much less common for bow ties than for ordinary four-in-hand neckties.
Learn how to tie a bow tie via the image below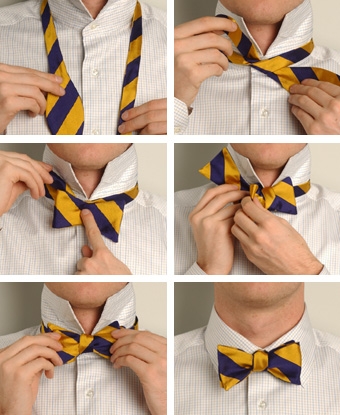 Still confused? Then i have another option for you.
I have uploaded the you tube video on how to tie a bow tie. Hope it helps you