Here are some of the 6 best and tastiest Sweet Potato Recipes to impress your guests.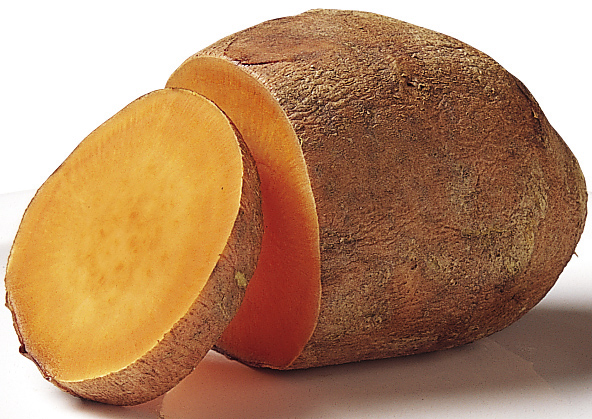 1. Sweet Potato Pancakes/Waffles
This breakfast of champions will fuel your day and leave you licking your plate!
Ingredients
150 grams Sweet Potato, mashed
1 scoop Whey Protein (I like to use either vanilla, chocolate or cookies n' cream)
3 Egg Whites
1/4 cup chopped Walnuts (optional)
1/2 tsp Baking Soda
1/2 tsp Nutmeg
1 tbsp Cinnamon
Directions
In a large bowl, mix all ingredients until smooth.
Cook batches in pre-sprayed skillet/waffle maker on medium high temperature until bubbles form on the surface, then turn over and cook until dark golden brown.
Serve with cinnamon and sugar free syrup.
2. Bacon 'n Cheese Sweet Potato
Ingredients
1 medium baked Sweet Potato
1/2 cup Cottage Cheese
2 tbsp Low-Fat Mozzarella Cheese, shredded
2 slices Turkey Bacon (cut into small pieces)
1 tbsp crushed Red Pepper
chopped Broccoli, to garnish
Directions
Top sweet potato with cottage cheese, mozzarella cheese, chopped broccoli, turkey bacon and crushed red pepper.
Microwave for 1.5-2 minutes, or until cheese is melted.
3. Sweet and Spicy Sweet Potato Soup
This modified Rachel Ray recipe is flavorful, clean and filling. Yum Yum!
Ingredients
2 medium Carrots, peeled
2 stalks Celery
1 large Onion, peeled and halved
3 tbsp Enchilada Sauce
2 cloves Garlic, chopped
Salt and Black Pepper
1 Bay Leaf
5 cups Chicken Stock
1 large baked Sweet Potato, cubed
Fat free Greek Yogurt for garnish
Directions
Heat a soup pot over medium-high heat and spray with Olive Oil Pam.
Add carrots, celery and onion and cook for 5 minutes.
Add the garlic, chipotle, and enchilada sauce and stir to combine.
Stir in salt, pepper and a bay leaf and cook for 1 minute.
Add stock, cover and raise heat to high. Bring the stoup to a boil, remove cover, and simmer for 10 minutes.
Add chicken and sweet potato and simmer 5 minutes or until sweet potatoes are tender and chicken is cooked through.
Garnish with dollop of Greek yogurt.
4. Sweet Potato Fries/Chips
Sweet potato chips/fries make a great side dish. I like to top them with cinnamon, nutmeg, and Splenda for a sweet version, or Cajun seasoning, salt and pepper for savory.
Here is the basic recipe — season as you please.
Ingredients
16 oz Sweet Potatoes
Choice of seasonings
Directions
Preheat oven to 425.
Cut up sweet potatoes (fries, wedges, whatever you prefer).
Season and spray pan and sweet potatoes with Olive Oil Pam.
Bake for 15-20 minutes or until golden brown.
5. Sweet Potato Stir Fry
After doing some research and experimentation with purple sweet potatoes, I found they are not quite as sweet as orange sweet potatoes, but are great for more savory dishes, like stir fry.
Their purple skin also makes them a great source of antioxidants and adds some fun and color to your food.
Ingredients
4 oz Pork Chop
4 oz Japanese sweet potato, sliced lengthwise ¾-inch thick
1 cup cut Cabbage (I like purple, for the color)
1/2 cup Cauliflower (again, purple)
1/2 cup Broccoli
Salt and Pepper, to taste
Directions
Place sweet potatoes in oven at 425 for 15 minutes.
Meanwhile, cook pork chop on medium heat until done.
Add cabbage, broccoli and cauliflower to skillet and cook until cabbage is wilted. Mix with pork, sweet potato and eggplant and season with salt and pepper.
6. Sweet Potato Bread
This bread recipe is good for both the body and the soul. Enjoy!
Ingredients
8 oz mashed Sweet Potato, without skin
2 scoops Vanilla Whey
1 cup Oat Bran
2 Egg Whites
2 tbsp Milk
1/4 cup chopped Walnuts (optional)
1/2 cup Splenda
1 tsp Nutmeg
1 tsp Vanilla
1 Tbsp Cinnamon
Directions
Preheat oven to 350°F. Spray 9x5x3-inch loaf pan with olive oil Pam.
Mix whey and oat bran into medium bowl.
Beat splenda, eggs and vanilla to blend in large bowl. Mix in sweet potato. Add dry ingredients and walnuts and stir well.
Transfer batter to prepared pan. Bake until tester inserted into center comes out clean, about 30 minutes.
Cool bread in pan on rack 15 minutes.