A shocking 1 in 2 college graduates can't find a job in US. While the Government is boasting of declining unemployment rates and boosting the job market, the reality seems to be far off.
The class of 2012 are in for a heart-breaking shock as they step into the world of work. They just can't find themselves any job.
A weak labor market already has left half of young college graduates either jobless or underemployed in positions that don't fully use their skills and knowledge.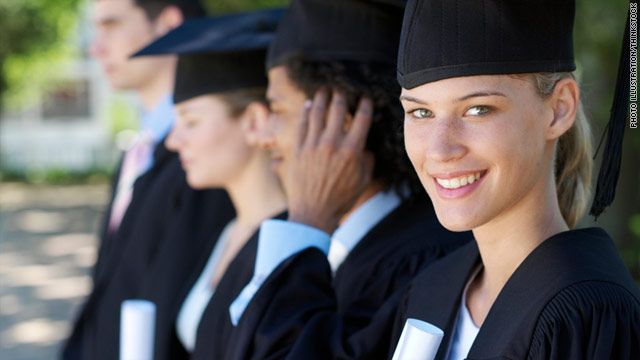 Young adults with bachelor's degrees are increasingly scraping by in lower-wage jobs – waiter or waitress, bartender, retail clerk or receptionist, for example – and that's confounding their hopes a degree would pay off despite higher tuition and mounting student loans.
An analysis of government data conducted for The Associated Press lays bare the highly uneven prospects for holders of bachelor's degrees.
Opportunities for college graduates vary widely.
While there's strong demand in science, education and health fields, arts and humanities flounder. Median wages for those with bachelor's degrees are down from 2000, hit by technological changes that are eliminating midlevel jobs such as bank tellers. Most future job openings are projected to be in lower-skilled positions such as home health aides, who can provide personalized attention as the U.S. population ages.
Taking underemployment into consideration, the job prospects for bachelor's degree holders fell last year to the lowest level in more than a decade.
"I don't even know what I'm looking for," says Michael Bledsoe, who described months of fruitless job searches as he served customers at a Seattle coffeehouse. The 23-year-old graduated in 2010 with a creative writing degree.
I can feel from my heart how these students are suffering, through I am software engineering by degree, I do a job that is no way related to it. Sometimes, I wonder why I did a degree that is just laying around.
"You can make more money on average if you go to college, but it's not true for everybody," says Harvard economist Richard Freeman, noting the growing risk of a debt bubble with total U.S. student loan debt surpassing $1 trillion. "If you're not sure what you're going to be doing, it probably bodes well to take some job, if you can get one, and get a sense first of what you want from college."
While the pain of not getting a job is not harsh enough, the mounting debt accumulated along with the degree increases every day is something else.
That future may be now for Kelman Edwards Jr., 24, of Murfreesboro, Tenn., who is waiting to see the returns on his college education.
After earning a biology degree last May, the only job he could find was as a construction worker for five months before he quit to focus on finding a job in his academic field. He applied for positions in laboratories but was told they were looking for people with specialized certifications.
"I thought that me having a biology degree was a gold ticket for me getting into places, but every other job wants you to have previous history in the field," he said. Edwards, who has about $5,500 in student debt, recently met with a career counselor at Middle Tennessee State University. The counselor's main advice: Pursue further education.
"Everyone is always telling you, `Go to college,'" Edwards said. "But when you graduate, it's kind of an empty cliff."
Graduation should have been a happy moment for our kids but it is turning out to be a nightmare.