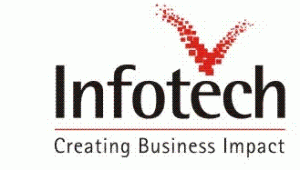 Designation: Software development and services
Job Description:
*Experience in design and development in a Microsoft .NET environment,particularly ASP.NET 2.0, C#, ADO.NET, C#. NET, VB.Net, C#, SQL Server
*using JAVA, J2EE, JSP, SERVLETS, STRUTS, WEBLOGIC, WEBSPHERE, APACHE-TOMCAT, IIS, EJB (Optional).
*Remote Debugging Oracle Procedures. Minimum 3Years experience in software development. Basic Knowledge of Java and/or C++ Development. No Oracle Administrators
*Excellent skills in understanding and implementation of
*processes mapping to RTCA/DO-178 B Objectives
*Working level domain knowledge of Avionics systems such
*as Engine Control, Displays, Landing Gear, etc
Company Profile:
Founded in 1991, Infotech is a US $193.4 million (Rs. 889.75 Crores for FY 2008-2009) Global IT services company with over 7000 people specializing in Engineering Services, Geographic Information Systems (GIS), and IT services. We provide services to a wide range of industries – Aerospace, Automotive, Energy, Government, HiTech Consumer & Medical Devices, Marine, Rail, Retail, Telecom and Utilities.
Infotech has a distinctive business model: "offshore services, onshore responsibility". It combines extensive software development capability based in India with global delivery through offices in the US, UK, Germany, Australia and the Netherlands that provide local customer interface and project management. We operate from 27 global locations, including 7 development centers and accommodate the largest operations out of India for Engineering Services, Geographic Information Systems (GIS), and IT services.
Infotech's cutting edge is our industry specific domain expertise, people and processes, technologies, tools and training. We draw on this strong foundation to create measurable business impact for customers around the world, resulting in long-term relationships with several of the most recognized names in their respective industries.
Desired Profile :
*Excellent skills in understanding and implementation of processes
*For Senior positions – experience in evolving Processes & Standards for safety critical SDLC will be an added advantage in selection
*Experience in performing Reviews of Safety Critical Software will be an added advantage.
*Good in Business Process/Functional Areas Requirements, GAP Analysis, Design, Configuration,Development, Testing, Deployment, Planning & Executing Data Conversion & User Training
Experience: 0 – 6 Years
Functional Area : Engineering Design, R&D ,Application Programming
Education: BE/B.Tech/MBA/M.COM/M.Tech/ME/MCA/MCS/MS/MS-IT.
Location: Hyderabad / Bangalore
Website:  http://www.infotech-enterprises.com