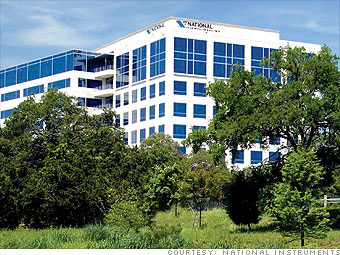 Company:           National Instruments
Position:             Application Engineer
Job location:    Bangalore
Note: Locations are subject to change.
Event date:           12 Sep 2010
Last date                10 Sep 2010
Salary Offered:     Rs.750000/-
Experience Required:  Fresher
Description:
National Instruments:
The name which does NOT NEED an introduction.
For the past eight consecutive years, FORTUNE magazine has named National Instruments one of the 100 best companies to work for in America.
A world leader in computer-based measurement and automation, is revolutionizing the way engineers and scientists use PCs to monitor and understand the world around us. NI leverages commercial technologies, such as industry-standard computers and the Internet, to deliver customer-defined measurement and automation solutions.
Headquartered in Austin, Texas, NI is the maker of many famous software, the most prominent being "Labview".
Eligibility:
– BE/BTech 2009 or 2010 batch (Electronics, Electrical, Instrumentation)
– High pH Score and good academics.
Job Description:
As an Application Engineer (AE) your role would be to master NI's
products. Your journey will commence with learning NI's products and customers.
Once you prove your success, the next stage is that of a technical consultant where you work in the field directly with customers and will be responsible for
– Assist customers in application development
– Conduct professional technical training on NI products
– Responsible for demonstrating and configuring virtual instrumentation systems to existing and new customers
Note:
Please do not apply if you are looking for a software / R&D job. This is primarily a consulting role.
CLICK HERE to apply for the job