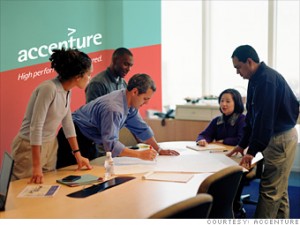 Join Accenture's technology solutions team and you'll employ cutting-edge software and tools to create and deliver innovative solutions for our global clients. In India, we now employ over 50,000 professionals across Bangalore, Chennai, Hyderabad, Mumbai, New Delhi and Pune. With long-term projects in a wide range of industries, you'll have the opportunity to learn new skills and hone your expertise, as we work together to help our clients achieve high performance. Choose Accenture for a rewarding and fulfilling career.
Opportunity for B.Sc and BCA Graduates at Accenture @ Bangalore / Pune
Accenture Delivery Centers for Technology in India are a strategic cornerstone in the Accenture Delivery Network. Our technology specialists use their knowledge to provide practical programming and technology implementation for business. We are hiring talented, energetic men and women as part of our Accenture Science Graduate Program (ASGP) for our Bangalore and Pune Delivery Centers.
We are looking for graduates who can :
• Understand Software / System components and associated specifications
• Create specifications and deploy these components
• Develop, modify and review testing components based on defined specifications and test components
Eligibility Criteria :
• 2010 pass outs – [3 year Graduates] – B.Sc (all branches) & BCA with an overall aggregate of 60% and above
• Excellent verbal and written communication skills
• Should not have applied to Accenture within the last six months
If you meet the criteria above, please send your resume to : campus.queries (at) accenture (dot) com with the subject line 'ASGP Hiring – Bangalore' (if you are interested in attending a walk-in event in Bangalore) and 'ASGP Hiring – Pune' (if you are interested in attending a walk-in event in Pune).
If you are shortlisted, Accenture will contact you with details on the walk-in envent.