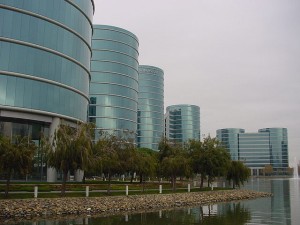 OFSS is hiring Entry Level Trainees at its software centers at Bangalore, Mumbai and Pune.
Oracle Financial Services Software Limited (formely i-flex® solutions limited), majority owned by Oracle, is a world leader in providing IT solutions to the financial services industry. Oracle is the world's largest enterprise software vendor with 320,000 global customers and USD 22.4 billion in revenue.
Oracle Financial Services Software (OFSS) offers financial services institutions the world's most comprehensive and contemporary banking applications and technology footprint that addresses their complex IT and business requirements. The company has delivered value-based IT solutions to over 880 financial institutions in over 135 countries.
OFSS has over 10000 employees operating from 14 development centers across India, Singapore and the USA. In addition, OFSS is represented by 30 corporate business partners and 30 implementation partners across the globe. The company also has strong alliance and/or implementation relationships with industry leaders such as Hewlett-Packard, IBM, Sun Microsystems and Intel.
(To know more, visit: www.oracle.com/financialservices)
OFSS provides an exciting, life time opportunity to all candidates to appear for the selection process, provided they meet ALL of the below criteria –
Education (any one of the following):
· Engineering ( CS / CE / IT / EE / ECE / Mechanical )
· MCA
· MCM
Year of passing the highest full time degree: 2010 (at first attempt)
Additional criteria:
1. Class X – 60% and above
2. Class XII – 60% and above
3. Undergraduate Degree – 55% and above (applicable to MCA/ MCM students only)
4. Engineering / MCA / MCM – 60% and above
5. Highest degree (applicable for MCA / Engineering / MCM only) should be accredited by AICTE (All India Centre for Technical Education)
6. There should not be more than 1 year gap between Class XII and Undergraduate / Engineering
7. There should not be more than 1 year gap between Undergraduate and MCA / MCM.
All eligible students must carry the following documents –
* 1. Identity proof such as Driver's license/Passport/PAN/Voter's Id, etc. (Xerox copy)
* 2. Print out of the invite mail.
* 3. Class X, XII mark sheets (Xerox copy)
* 4. Undergraduate / Post Graduate / Engineering degree certificate(s) clearing showing the aggregate % (Xerox copy)
* 5. Two recent passport size photographs
Entry into the selection process will be possible post verification of all the above documents.
The Event details appear below –
Date: July 23, 2010 (Friday)
Time: 9 am – 2 pm
Venue:
CMR Institute of Technology
132, AECS Layout,
Kundalahalli Main Road, Mahadevapura Post,
Whitefield, Bangalore – 560 037
Phone: 80 – 28524477 / 65971384 (Direct)
Landmark:
* Next to Oracle Financial Services, Millenium Towers
* 05 minutes walk from Cosmos Mall/ Brookefields Office
* Nearest BMTC Bus stop: CMRIT College/Cosmos Mall
** Please note that no parking will be provided within the college premises.
Dress code: Semi Formal
Accompaniments:
Blue or Black ball pen
Pencil with eraser
(Calculators will not be allowed)
The selection process shall comprise of the following three stages –
Stage 1: Aptitude test (Data interpretation/ Numerical analysis / Logical reasoning/ English comprehension)
Stage 2: Technical interview (in the area of your specialization)
Stage 3: Behavioral interview
Each stage is an elimination round.
Moving into the next stage is subject to clearing the previous stage.
On completion of all the above stages, the selected candidates shall be informed individually. All selected candidates should be able to join the company within 10 days of the announcement of the results.
At the time of joining, the annual compensation shall be Rs. 300000/-.