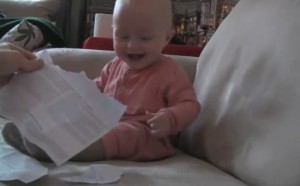 A cute, little baby videotaped laughing hysterically as her father rips up paper is now famous all over the net thanks to the  you tube video.
According to reports, baby Micah's laugh attack was sparked by her dad's response to a job rejection letter. Upon receipt of the recent rejection letter, Micah's father, Marcus McArthur, ripped it in half, which was apparently very funny to baby Micah. So McArthur grabbed his camera, recorded the hilarious laughing fit, uploaded it to YouTube
The video had a huge welcome among the internet users with the total views climbing over 5 million. Holy cow, thats huge.
I guess the childishness in every individual pushed us to see the video . I must admit though, the baby is a real cute.
Watch the video below