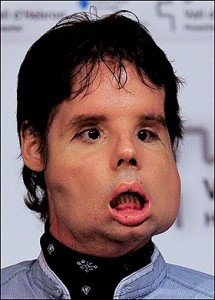 Oscar,31 year old from spain had a shooting accident 5 years ago that entirely damaged his face. He was left out unable to speak,swallow and even breathe. Geez, this is harsh. The poor lad had tough time in his life.
Thanks to the medical crew led by Dr JP Barret, a full face transplant has been successfully completed and Oscar is expected to get back his 90% face operation.This is first time in history of medical science to perform a complete face transplant. The operation took 24 hour long with a total  of 3o doctors crew.
Which part of the face did the doctors worked on?
The doctors transplanted muscles, nose, lips, maxilla, palate, all teeth, cheekbones, and the mandible by means of plastic surgery and micro-neurovascular reconstructive surgery techniques.
Oscar's reaction:
Oscar thanked all the Doctors and his well wishers adding
"Friends, I want to thank the hospital coordinators, the entire medical team, the family of the donor and most of all my family who are supporting me these days."
Oscar will have to face real challenge in future. He need to adopt his face  and given that his speech is not fine, he has to learn to speak properly that involves great deal of therapy.
The steps which the doctors take to work on the patients face continuous below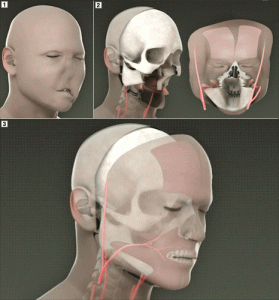 Patient lost jaw, nose and other parts of his face in shooting accident.
Donor's facial skin, muscles, nose, cheekbones, teeth and jawbone used to rebuild patient's face. Metal plates used to support new facial structure, which included reconstructing the roof of the mouth.
Donor's nerves, blood vessels and skin connected to patient. Patient will have to take anti-rejection drugs for the rest of his life.