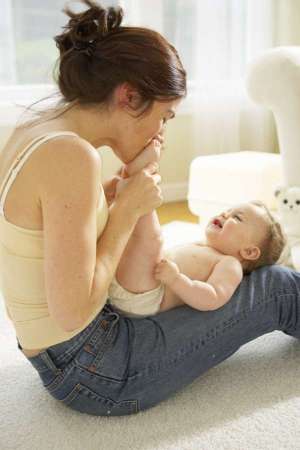 Many mothers are under so much pressure to appear like perfect parents that they cover up how much television their children watch or what they cook their families, according to a survey.

Such "white lies" also extend to how much "quality time" mothers spend with their partner, website Netmums said its survey of 5,000 people suggested.
The parenting site said mothers often made each other feel "inadequate".
"Mums need to be more honest with each other," said Netmums' Siobhan Freegard.
The website is calling for a more honest approach to family life and an end to the guilty subterfuge of mothers who feel unable to achieve an idealised view of parenthood.
Sleeping, not baking
Almost two-thirds of those surveyed said they had been less than honest with other mothers about how well they were coping and almost half covered up financial worries.
Almost a quarter of mothers admitted to downplaying how much television their children actually watched – and one in five "span a yarn" over how long they played with their children.
Ms Freegard, co-founder of the site, said there had been another example of a mother who was exhausted and went back to bed during the day, but explained her failure to answer the phone as being because her hands had been covered in flour while making cookies.
The need to keep up a good impression among other parents becomes even more important for mothers who are living far away from their own extended families, she said.
But the survey suggested that this fear of not being a perfect parent was not driven by images of celebrities in glossy magazines.
Instead the sense of inadequacy was caused by peer pressure from other mothers at the school gate or the nursery, the survey found, with more than nine out of 10 comparing themselves to other mothers.
The website is launching what it calls The Real Parenting Revolution, which encourages parents to accept the reality of how they live, rather than feeling bad about not living up to a myth of perfection.
"It's the imperfections that make us human," Ms Freegard said.
'Profound pressures'
One mother, known as Becky, who responded to the survey explained that it was difficult to be honest: "My friend was telling me about how she limited her son's access to the PlayStation and I agreed, telling her that I also limited my son to an hour a day, after homework.
"After I'd said it, I kicked myself for not telling the truth – I mean, it's no big deal.
"It's just very difficult to put your hands up and admit that you parent differently to your friends."
Parenting expert and sociologist Frank Furedi said that parents were under "profound pressures" from society. He said that a culture of parenting "incites parents to lie and to turn child-rearing into a performance."
He added that even with the best intentions, reports such as these increased the pressure on parents: "Parents are always being judged in one way or another – including by this report. The real solution is to lay off parents and publish less reports."
Psychologist Dr Linda Papadopoulos said that it was common for people to feel that they were being judged in a variety situations. She advised parents to avoid comparing themselves with others.
"You're in competition with no-one but yourself – all you can do is the best for you and your kid."