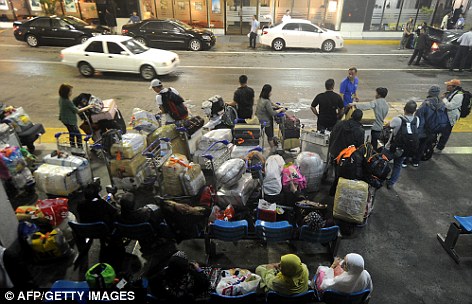 We got the list of the World's worst airports 2013 that has been compiled by SleepingInAirports community who has voted the following airports as the Worst Airports for Comfort, Amenities and Overall Experience.
The worst airports:
Manila NAIA (Terminal 1)
Bergamo
Calcutta
Islamabad
Paris Beauvais
Chennai
Frankfurt Hahn
Mumbai
Rome Fiumicino
Los Angeles
5. Paris Beauvais Airport
"Fifteen of us airport sleepers were kicked out at 1 p.m. — all hotels in the area were booked.
"I was in transit from Morocco, in T-shirt and sandals. It was 8 C outside, and I spent the night walking and jumping around to keep warm."
4. Benazir Bhutto International Airport, Islamabad
"Upright plastic lumbar-devastating 'chairs' add to your foul mood after negotiating the carnage to actually end up in the departure lounge," says Col. Stewart with impressive spleen.
3. Netaji Subhas Chandra Bose International Airport, Kolkata
"We slept sitting up. The lights remained on all night and we had to don our jackets (in India?) because of the AC."
You can almost see Mur the Explorer's drawn, sleep-deprived face as he writes that.
2. Bergamo Orio al Serio Airport (Italy)
"There is [only] a small cafe open 24 hours … The chapel is not 24 hours any more … A group of drunk people hung around screaming and swearing," are some of bielvoda's desperate-sounding notes from a night's stay.
1. Manila Ninoy Aquino International Airport (Terminal 1)
You're more likely to get some sleep at a jack hammering competition than at this airport, according to SleepinginAirports voters.
"Everything seems to have been done to make the experience [of traveling through Ninoy Aquino] as horrible as possible," says wanderingcat123.
On the other hand, Hayden speaks highly of the third floor "Passenger Holding Area," with its own guard.
"We found some cardboard boxes at the 7-Eleven and made a nice bed," he (or she) writes.
The official response also ran against the grain of the survey.
"These are old issues," Manila airport Terminal 1 manager Dante Basanta was quoted as saying in the South China Morning Post.
He accepted that the airport, with a capacity of about 6.5 million passengers annually, was overstretched, handling almost 2 million passengers more than that.