Guys, its the National Cookie Day! am sure by just saying it many of you are smacking your lips. Well am sure doing it, after just looking at the delicious delights below.
We sure know that you want to celebrate the National Cookie Day, we got some of the best-out-of-the-best cookie recipes for you.
Strawberries & Cream Amaretti Cookies (gluten free)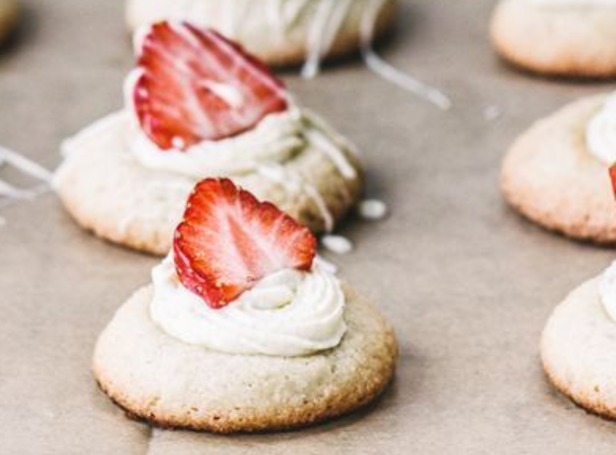 Notes:
-when blending the almonds and sugar, make sure you don't over process the mixture as it will start to clump up, and turn into almond butter.
-when whipping the cream, you know you NEED TO STOP whisking if it starts to appear grainy at all (this is a sign you are over whisking it, and you'll soon have a lump of butter sitting in a puddle of buttermilk! If it does start to become grainy, immediately stir in some un-whisked heavy cream to bring it back together, then stop mixing as soon as it has been incorporated).
-if you're feeling the extra fancy vibe and want to drizzle on white chocolate to the cookies, go for it! (it doesn't really translate in flavour, and is more effort, so I haven't included it in the recipe steps, but for anyone that's interested here's what I did…) I melted some white chocolate over a bainmarie, transferred it to a sandwich bag, and cut off the very tip of one corner of the bag. I then used it like a piping bag to drizzle the chocolate over the cookies.
1 1/2 cups blanched almonds
1 cup powdered sugar
1/2 cup granulated sugar
1 tsp almond extract (optional)
3 egg whites
1 cup heavy cream
1 tsp vanilla paste or vanilla extract
10-15 small strawberries, hulled, washed and halved
Preheat your oven to 300 F. Line a cookie sheet with parchment paper.
In a food processor, combine the almonds with the powdered sugar, 1/4 cup of the granulated sugar and the almond extract. Blend until you get a fine almond meal texture (you'll have to scrape down the sides every now and then).
In a large bowl, whisk the egg whites whilst slowly pouring in the remaining 1/4 cup of granulated sugar. Continue to whisk until you can make stiff peaks in the mixture. Add the ground almond mixture to the whisked egg whites and fold in until fully incorporated (you don't have to be toogentle, but make sure you don't knock all the air out of the mixture when doing this).
Transfer the batter to a piping bag with a wide, plain tip and pipe 2″ diameter domes onto the lined cookie sheet (or you can just drop the batter by heaped teaspoons onto the baking sheet). Bake for 10-12 minutes until the edges are just starting to become golden.
When you remove the cookies from the oven, immediately push in the domed centre using the end of a wooden spoon or pen, making an indent about the size of a thumb print. Let the cookies cool on a wire rack.
In a large bowl combine the heavy cream and vanilla paste/extract and whisk until it become just thick enough to hold its shape. Transfer to a piping bag with a medium star tip, and pipe swirls of whipped cream into the indent of each cookie (again, you could also just use a teaspoon to dollop the cream into the cookies). Top each cookie with a halved strawberry and serve immediately, or refrigerate until just before serving.
Courtesy: TheVanillaBeanBlog.com
Blue Bottle's Double Chocolate Cookies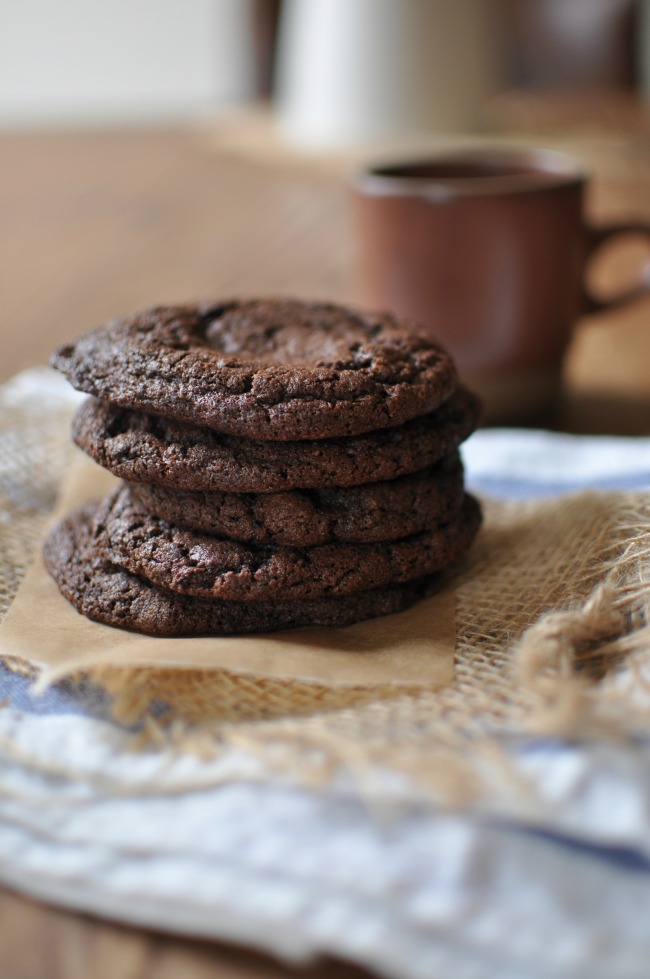 adapted from The Blue Bottle Craft of Coffee
*makes about 9 large cookies
3/4 cup of whole wheat pastry flour
1/4 cup of almond meal
1/3 cup of natural cocoa powder
1/2 teaspoon of baking soda
5 tablespoons of unsalted butter
1/2 cup of white sugar
1/2 cup of muscovado sugar
1 teaspoon of sea salt
1 egg, at room temperature
1 tablespoon of pure vanilla extract
3.5 ounces of dark chocolate (70%), coarsely chopped
1. Sift the flour, almond meal, cocoa powder, and baking soda into a bowl. Dump in any remaining bits into the bowl. Set aside.
2. Add the butter to the bowl of a stand mixer fitted with a paddle attachment and beat for 1 to 2 minutes, or until fluffy. Add the sugars and salt and mix on low speed until combined. Scrape down the sides of the bowl and continue mixing for another 5-6 minutes.
3. Combine the egg and vanilla extract in a medium bowl and whisk until blended.
4. With the mixer running on medium speed, add the egg mixture in a steady stream, mixing for about 30 seconds (or until smooth). Scrape down the sides of the bowl and mix for another 30 seconds.
5. Add the flour mixture and mix on low speed until just incorporated. Scrape down the sides of the bowl. Add the chocolate and mix until incorporated.
6. Scrape the dough into a lidded container and refrigerate for at least 3 hours or up to 5 days.
7. When ready to bake, preheat the oven to 350 degrees F. Line a baking sheet with parchment paper. Roll 1/4 cup portions of dough into balls and place them onto the baking sheet two inches apart.
8. Bake for about 12 minutes, rotating midway through, or until the cookies are slightly firm to the touch. Let cookies cool on the pan for about 10 minutes before removing. They'll be very tender, especially when they immediately come out of the oven. They're best eaten warm, but can be stored in an airtight container for several days.
Courtesy: TheVanillaBeanBlog.com
No Bake S'mores Cookies
Prep Time: 5 minutes
Cook Time: 5 minutes
Total Time: 10 minutes
Ingredients
2 cups sugar (I use Dixie Crystals)
1 stick butter
1 1/2 Tbsp. Cocoa Powder
1/2 cup milk
1 cup graham crackers, crushed
2 cups Instant Oats
1/2 cup Peanut Butter
1 teaspoon Vanilla
1/3 cup milk chocolate chips (I used Hershey's)
24 large marshmallows
Instructions
Bring sugar, butter, cocoa, and milk to a rolling boil for 1 minute, or use a candy thermometer and reach 205-210. (The thermometer works best for me. If you do use the boiling time, be sure to wait until the boil is ROLLING before you start timing the minute.)
When the mixture is ready, remove from heat and add remaining ingredients (except for the marshmallows), stirring quickly before the cookies set up. Drop by tablespoon-fulls or use a springloaded cookie scoop onto parchment or wax paper. Quickly press a marshmallow into the mounded cookie; allow to cool. Toast marshmallows under oven broiler for 25-30 seconds or by using a kitchen torch. Serve and enjoy!