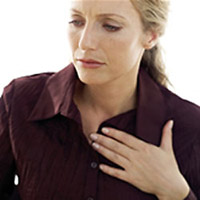 Are you a woman? And do you possess high post in an organization with high workers under you? Then be aware you possess more threat of a definite heart attack when compared to other woman.
Thanks to the latest US study, its found out that Women with high job strain have a 40% increased risk of cardiovascular disease compared with those in less demanding posts.
They had an 88% raised risk of a heart attack, and more chance of strokes and damage requiring coronary artery bypass surgery.
Researchers from Boston's Brigham and Women's Hospital followed 17,415 healthy women for more than 10 years.
The study was presented to the American Heart Association.
Job strain, a form of psychological stress, is defined as having a demanding job that provides limited opportunity for decision making or to use one's creative or individual skills.
The researchers also found job insecurity was also associated with risk factors for cardiovascular disease, such as high blood pressure and obesity – but not directly with poor cardiovascular health.
Stress can trigger the release of hormones such as adrenaline and cortisol, which at persistently high levels are thought to damage the cardiovascular system.
It can also raise inflammation levels which are thought to destabilise the fatty plaques which build up in the blood vessels and can cause circulatory problems.
Experts are concerned that heart disease can be overlooked in women, as it is often mistakenly thought of as a male problem.
Women may have less common symptoms, such as back pain, burning in the chest, abdominal discomfort, nausea, or fatigue, which makes diagnosis more difficult.
They are also less likely to seek medical help, and tend to present late in the process of their disease.
Researcher Dr Michelle Albert said the study suggested job stress had both a short and long-term effect on cardiovascular health.
She also said it was crucial for employers to monitor job stress, and take action to try to alleviate it.
"Job stress results in absenteeism, sickness, and disability, which can reduce productivity and competitiveness," she said.
Previous research has tended to focus on the impact of job stress on men.
Some critics believe it is not stress that causes heart problems – but the unhealthy behaviour, such as smoking and drinking, that some people adopt to try to cope with stress.
Ellen Mason, a senior cardiac nurse at the British Heart Foundation, said the exact mechanism by which stress could change the body's chemistry to raise the risk of heart disease had still to be pinned down.
But she said there was a growing body of research to suggest that it did have a damaging effect on the lining of the arteries.