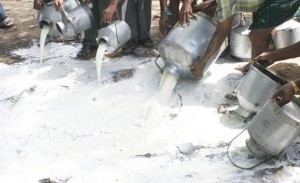 Indian Health department has shown serious concern over the continual availability of adulterated or diluted Milk all over the country.
The study, conducted this month by the food safety and standards authority of India, found milk was adulterated with skimmed milk powder and glucose, or more shockingly hydrogen peroxide, urea and detergent.
Hydrogen peroxide is used in bleach, while urea is commonly used in fertilizer.
"Consumption of milk with detergent may cause health hazards and indicates lack of hygiene and sanitation in the milk handling," the regulator said in a report.
"Addition of water not only reduces the nutritional value of milk but contaminated water may also pose health risks."
Almost 70 percent of the 1,791 samples taken nationwide were contaminated or watered down, according to the report.
Che, this is sick. Milk, is a basic essential of human life next to water. Its the only food for infants. Adulteration of such a pure gift from God, is a crime worthy to be punished.
The Culprit behind the scenes will surely earn millions but the death that occurs from it will definitely leave the blood stain all over them as a evidence of Murder!