Let us discuss how to make an Ice Cream Sundae pie. I have added the recipe on how to make it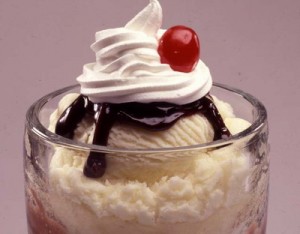 Before going into the Instructions, make sure you have the following things ready
2 pints vanilla ice cream,
1 (9 inch) graham cracker crust
3/4 caramel sauce
3/4 fudge sauce
1/2 pint whipped topping
A large spoon
Instructions:
Let the ice cream soften for a few moments before beginning. Now with a large spoon scoop 1 pint ice cream into thin layers, and spread this on the bottom of pie crust. Smooth this layer with back of a large spoon.
Spoon and spread the caramel sauce over ice cream layer,then freeze the pie until solid. 30 min to 2 hours depending on your freezer.
Now remove the frozen pie from freezer and top with another layer of ice cream and spread a layer of fudge sauce over the ice cream. Freeze the pie again until it is solid, the same as you did in the previous step.
Remove frozen pie from the freezer and top with last 1/2 pint ice cream. Drizzle remaining caramel and fudge sauce over the pie and freeze pie again.
Prepare your whipped topping by giving it a quick stir to lighten it before use. Spread this around the edge of the pie. Keep this in the freezer until you are ready to serve.