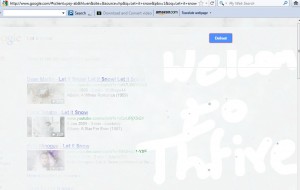 Have you tried 'Let It Snow' in Google Search engine? If no, then you are missing the fun.  For those who have experienced the magic three word Let it Snow in Google search engine would have surely had an exciting time admiring the snow fall.
Snow Fall?  Lol! I will make it simpler.
By typing 'Let It Snow' in Google Search engine, Virtual Snow fall starts coming down in the Google Page. Within a matter of seconds, the window is filled with virtual fog allowing you to draw messages.
You can scribble with whatever words that comes to your mind. For me, i had written "Welcome to Thfire" in the image above

Its just like the snowy days where we go out in open, have a great snow fight and scribble our mind in the frosted Car window. However, we cant have a Snow fight in the Google Search engine

While the snow pours down , you won't be able to click on any of the search results, but don't worry. The normal search icon turns into a "Defrost" button. One click will wipe away this icy veneer.
Also, don't try the trick in older browsers, its might not work there.
Leave us your reactions on the Google's Let it Snow.