I am getting really annoyed with everyone around me making some 'new year resolutions' and to my disgust newspapers, magazines and website all wanted to speak about new year resolutions. All I want to know is whats the big deal ? Why do you want to make new year resolution ? whats the point of all this ? How many of you have kept up to that resolutions ? I bet you would forget what your resolutions were by tomorrow. I notice some people are really annoyed by this or just too lazy to make up resolutions. They just have a ready-made reply they say, "I want to be a better person this year". **** that. Like thats gonna happen. You said that last year and year before it. We just won't notice any difference.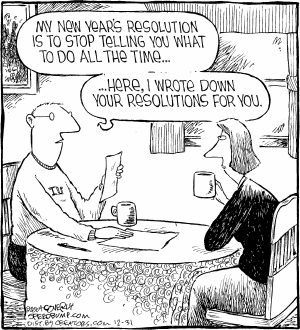 Why do we make New year resolutions if we make sure we are not gonna follow up with it ? Trust me 99.99% of people won't even know what resolution they made this year if you ask them after a month. Some people do follow we can't deny that. But those kind of people are those who always have a To-Do list and make it their rule of life. That means New Year Resolution is nothing new to them, they are just making another long-term To-Do list and they are gonna follow it like every other to-do list they have. Normal people just make some new year resolution just to forget it later. Just waste of time. But you can look it in a funny way. You can atleast know what other people were trying to do the whole year and still didn't succeed in it.
For that reason, I just laugh when I see or hear about New Year Resolutions.
But this I am going to make one. I am not gonna write it down cause I won't forget it. My New Year Resolution for 2010 is "Never make another New Year Resolution forever in your life". There I made it! And you know I will follow it.
You guys can go ahead and read all the guides, step-by-step, tutorials, youtube videos etc about how to make New Year Resolutions. I am sure they are already been thrown at your face.
So, whats the point of this whole post ? Don't make new year resolutions if you follow it. Do you have lots of to-do lists ? Then go-ahead and make some new year resolutions ( NEW TO-DO Lists YAY!). For the rest of us, its not just meant to be for us.