How to make a recipe of Chocolate covered with strawberries? Whenever i see the word chocolate i get so hungry everytime. I guess i am addicted to chocolate. Lol!
Well, let us now learn how to actually make a strawberries dipped in choco. Thanks to daily postal, we have instructions on how to make it.
INSTRUCTION:
Ingredients:
* 6 ounces semisweet chocolate, chopped
* 3 ounces white chocolate, chopped
* 1 pound strawberries with stems (about 20), washed and dried very well
Directions:
Put the semisweet and white chocolates into 2 separate heatproof medium bowls. Fill 2 medium saucepans with a couple inches of water and bring to a simmer over medium heat. Turn off the heat; set the bowls of chocolate over the water to melt. Stir until smooth. (Alternatively, melt the chocolates in a microwave at half power, for 1 minute, stir and then heat for another minute or until melted.)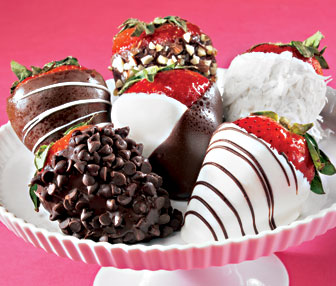 Once the chocolates are melted and smooth, remove from the heat. Line a sheet pan with parchment or waxed paper. Holding the strawberry by the stem, dip the fruit into the dark chocolate, lift and twist slightly, letting any excess chocolate fall back into the bowl. Set strawberries on the parchment paper. Repeat with the rest of the strawberries. Dip a fork in the white chocolate and drizzle the white chocolate over the dipped strawberries.
Set the strawberries aside until the chocolate sets, about 30 minutes.
That's it and your favorite food is ready to server.