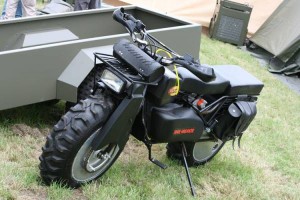 Trailbreaker is one of the most reliable and versatile motor mobile for 50 years, and is considered an American classic.
US Special Forces in Desert Storm, the US Forest Service, some 25 states Fish and Game officers, countless big game hunters, and even treasure seekers use the Rokon Trailbreaker for climbing high peaks, traversed slippery snow fields and even provided safe passage for explorers through the treacherous Darien Gap.
The Rokon Trailbreaker operates for up to 9 hours on one fill up of the almost 3 gallon tank and run its classic work horse four stroke Kohler engine where ever you need to Trail-Breaker is automatic and is operated by hands only. You can check out the specifications of the Rokon Trailbreaker at ROKON. You can also buy a Rokon Trailbreaker at ROKON International Inc. 50 Railroad Ave. Rochester, NH 03839, or contact them here, 603-335-3200.