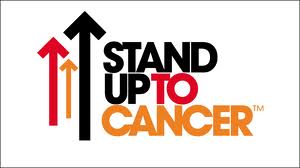 Standing up to the cancer is something people ought to do. Not only for ourselves but also for others who require our attention for the cause of brotherhood.
What is Stand up to cancer?
Stand up to cancer was founded by Entertainment Industry Foundation (EIF) who are working out for the cause of prevention and treatment of cancer affected people.
Media contribution:
ABC and a variety of other major networks are simulcasting the live cancer fundraiser Stand Up to Cancer Friday night starting at 8:00. Diane Sawyer and the other network news anchors will be joined by dozens of other stars, including throat cancer survivor Michael Douglas.
Along with raising research dollars, the show is designed to make people stop and think about their risk of cancer and what can be done to reduce the risk.
If you want to be screened for cancer, but can't afford it, the American Cancer Society can help.  You can call them at 1-800-227-2345.
Lets make a good move by donating for the cause of Cancer prevention. If you would like to donate for cancer awareness, visit the official site of Stand up to cancer by CLICKING HERE