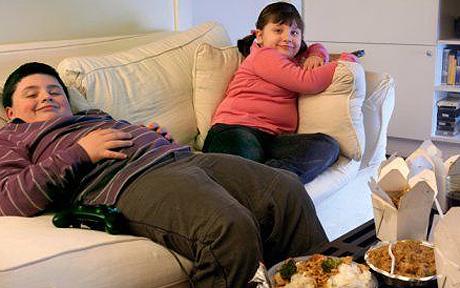 Listen up, Working Mothers all over the globe. The health of your kids is at risk! While you work, your kids has high possibility of developing obesity with 6 times more likely than others
It is official that,  Moms who go for work and spend lot of time in office have risked the highest possibility of their kids developing  Obesity in the young age itself.
WTH! What has my work got to do with My Kid Obesity?
If you feel your working has nothing to do with your kid obesity. Then lets discuss the facts.
Naturally, kids depend on you [mothers] for their livelihood. Livelihood not only involves love and care but also good food and shelter.
It is found out via research that, "Kids whose Mother go to Work are 6 times more likely to be fatter than kids who have their mom to take care of".
It is because, the working mom has less time to spend for her family and particularly young kids who need the care and love of mom the most.
By spending less time with her kids, the mom is risking the very fact of not knowing what their kids eat and when they sleep.
They pretend to know when their kid play , eat and sleep. But in reality they don't know it and it is the fact!
The Kid not knowing what to eat, orders and eats junkies. Junkies include all fast food including Pizza, Burger, which has very high risk of developing Obesity.
Ok, I got the Point. They Eat Junkies so they have high obesity rate! But why blame it on me?
An Average woman would know what is best for her and her family.  Woman, in particular, are like doctors when it comes to their kids, they know and they judge between healthy foods like fruits, vegetables and junkies.
If they are with kids, they would have definitely made them a natural food and served them  a good healthy meal. But as they tend towards work, they become less bothered to know what their kids eat and this is where they go wrong.
Less Bothered? Holy cow, this is Harsh!!!
Yeah, it is harsh, but when a Mom prioritize other things than their life [Kids], then Less Bothered becomes a normal house word.
By opting for Work than Kids, the mom is also risking the fact of  losing the control and the family bond with her kid who might become a stranger as time goes on.
This is why nurturing a kid in a right direction is very important and only a Mother can do it.
To say it in a quote, "Working Woman make a very bad mother"