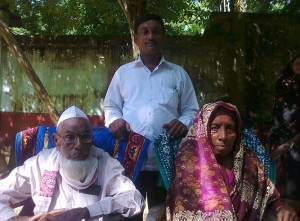 120-year-old Hazi Abdul Noor from India's Assam's Satghori village tied the knot with 60-year-old Samoi Bibi,a resident of North Foolbari village with the presence of over 500 guests, including religious heads, who gathered at the sleepy Satghori village in Karimganj district, around 400 km from Assam's main city of Guwahati, to witness the rare marriage ceremony.
'Homemade sweets were passed around when Maulana Khairuzzaman, a senior Madrasa teacher, asked for a 'Kubool' (agreeing to marry) and a smiling Noor replied in confirmatory by nodding his head,' said Saiful Ahmed, a local government school teacher who was one of the guests at the ceremony.
'Noor might very well be the oldest person to get married in this part of India as far as my memory goes,' Ahmed told IANS.
Displaying his documents, Noor said: 'My age in the electoral list of the election commission is 116 years, but I am 120.'
In fact, this is not his first marriage.
Salima Khatun, Noor's first wife, died in 2005. 'I married Salima when I was 40,' he said.
Today, he heads a family of 122 members, including two sons, three daughters and numerous grandchildren, most of whom are married. Noor's eldest daughter is 79.
'Soon after my mother's death, my father asked us to find him another wife who would look after him as he needs full-time support,' said Noor's eldest son Hazi Azir Uddin, a retired teacher.
'With the help of one Abdul Hamid of Tripura, we found a new mother, though she's half his age. She was married once. Long back her husband died and she has no children,' the son said.
Folks, they say what is yours will be yours. At the age of 120 if this guys is marring the woman, i definitely feel she was born for him. Lol.
Marriages are made in Heaven. And this marriage is definitely a very rare example of the old saying.
Img Src: dailymail.co.uk