Yes, 8000! That sure will cause a hell of damage and it has indeed. A big-rig truck carrying more than 8000 gallons of oil exploded on a Los Angeles freeway on Sunday.
The rig was traveling on the Long Beach 710 freeway in Commerce, Calif. when it crashed into a side rail and burst into flames as it dangled over the side of the road, the Los Angeles Times reports.
Aerial footage from NBC showed the burned carcass of the rig hanging off the overpass and onto train tracks below the freeway.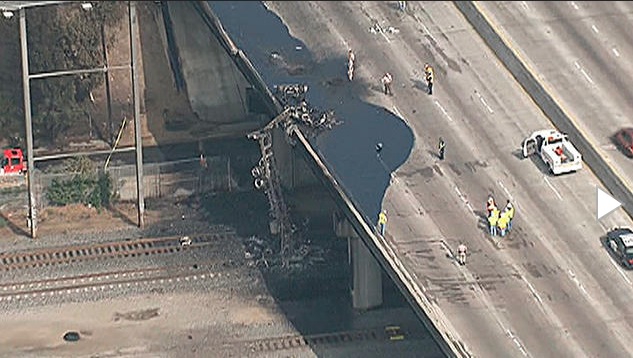 Much of the big rig's crude oil spilled, and some of it flowed into a residential neighborhood, incinerating two parked trucks, the Times reports. The driver managed to escape but was "severely burned" and in critical condition.
A second person, believed to be on a street below, suffered moderate injuries, KTLA reports. The explosion prompted authorities to shut down the freeway, causing a major traffic jam.
The fire also prompted nearby residents to evacuate from their homes, CBS reports. Sunday evening, Caltrans officials assessed the structural integrity of the blackened freeway bridge.