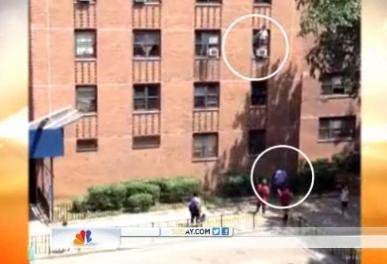 A city bus driver says he was thinking of his own young daughter when he rushed to catch a 7-year-old girl plunging three stories from a New York building Monday – an action caught on video.
"Please let me catch her, please let me catch her," Stephen St. Bernard, 52, recalled thinking. "That's all I could say. Let me catch the little baby."
"I think about my daughter, and you know, she's a little kid," he said.
St. Bernard, an MTA bus driver of 10 years, was returning home to Coney Island from his job at about 2 p.m. when he heard screams coming from a building courtyard.
He rushed toward the commotion and saw a girl standing on top of a third-floor window air conditioning unit. He immediately ran underneath the window.
"She just stood up there teetering, teetering," he said.
Amateur video shows St. Bernard shouting up to the girl, trying to talk the girl into going back into her apartment. Suddenly, the girl falls, eliciting horrified screams from neighbors.
But St. Bernard catches her in his arms, stumbling slightly forward to the ground with the girl still firmly in his grasp.
"I picked her up and carried her, and I was holding her, rubbing her, and she just more or less kept looking around," he told NBC 4 New York. "She never closed her eyes, she didn't lose consciousness."
The girl was not wearing pants, and St. Bernard wrapped her in his MTA uniform shirt as he waited for paramedics to arrive.
She was taken to Coney Island Hospital with very minor injuries.
"He's my hero," said the girl's aunt, Monique Harding. "He definitely did our family a favor today."
Police sources said the girl has autism. Her mother was inside the apartment watching her other child and did not see the girl standing outside on the A/C, the sources said.
St. Bernard sustained a torn tendon in his shoulder but he is expected to be OK.
The girl's mother did not want to speak with reporters Monday.
Video: