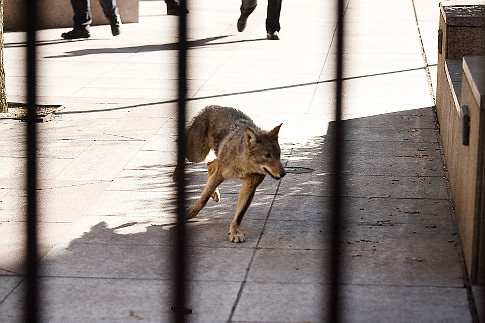 Warner Bros cartoons shows Coyote likes to hunt Road Runner,but the one that entered the westchester suburb had different taste.
The residents of  Westchester ended up with a sign of relief  after seeing the cops killing the coyote that tried to attack their kids. OMG!!!
The Whole Story
The Coyote gets into the town and attacks the kids in two different Incidents.
First incident took place in  Rye Brook cul-de-sac around 7 pm where the Coyote targeted the kids playing football.
A 14-year-old boy,Eric Mandel, jumped into action and fought with the coyote.
"My son struck the coyote twice in the face. He yelled at it to scare him off and then it ran in the other direction into the woods," said his mother, Susan Mandel.
Less than an hour later the animal reappeared about a half-mile away and tried to snatch a 2-year-old girl from the front yard of her grandfather's house where she sat with her dad.
"We were sitting outside playing," said the girl's father, Jared Zuckerman, who lives in Greenwich, Conn. "I sensed something out of the corner of my eye, but by that time it was grabbing her."
Before the animal could bite down on her arm, Zuckerman pulled her away and cradled her in his arms, but the wild dog wasn't prepared to let him off that easily.
"I grabbed her and turned around and he grabbed my tush – it was just a superficial wound," he said. "It barely got her. She was very lucky."
Zuckerman, his daughter and Mandel were all given rabies shots at a local hospital and released.
Town officials dispatched a trapper to hunt the coyote down. They caught up with an animal they believe to be the culprit Monday morning, and shot it dead after it lunged at its pursuers.
The area has become Ground Zero for ugly coyote-human encounters this summer.
"We've had at least 150 sightings all over the village," said Rye Brook police Sgt. Rich Carroll. "They are just following the food supply, which are turkeys."
There have been several high-profile attacks on young children in neighboring Rye in recent months, prompting officials to launch an aggressive trapping campaign.
"We've had some success, but evidently not enough," Carroll said. "In the last five years or so they have really picked up."
Zuckerman's father, Gary, said his family understood that they shared the land with wildlife, but that things were changing.
"It's disconcerting that the coyotes have become so aggressive," he said. "Not only do they try attacking little animals, they are attacking little children."
Though the situation is better now. I would surely watch out because the other coyotes will return for revenge.