The dad believes he is disciplining his child, but this does seems over the line. Twelve-year-old Jose Gonzalez isn't having much fun on his spring break. But his father hopes it will be a week the Denver-area youth will never forget.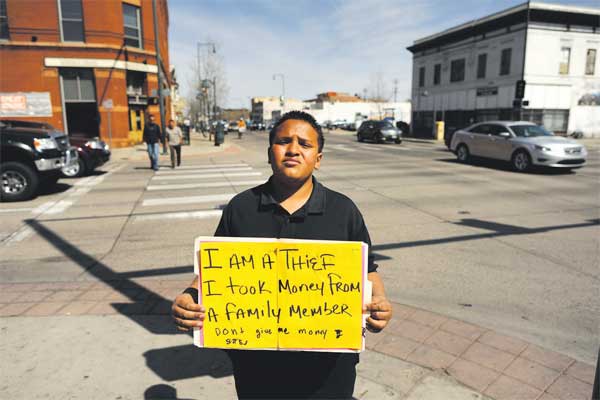 The Denver Post reports that after Joseph Gonzalez found out that Jose had stolen $100 from a cousin's wallet, he forced his son to stand on a downtown street corner holding a sign that reads, "I am a thief. I took money from a family member. Don't give me money."
"He's a good kid," Gonzalez told Post reporter Electa Draper. "This is the first time he's done something like this. I hope it will be the last."
"The taking-responsibility part is cool, but the rest of this is not cool," Florida psychologist James Huysman told the paper. "This is about shame. In the old days, we used to just shame people, hang signs around their necks in public." Huysman said Jose is too young to gain any "insight" from the punishment.
"I think it's, like, fair," Jose says in the video. "I was kind of mad but sad at the same time because I thought I was gonna be embarrassed a lot."
But his dad isn't worried about any psychological scars or the public notoriety gained from Jose's punishment. "Nah, he's only 12 years old," he said. "Everybody makes mistakes at that time in their life. It's about being corrected."
In addition to making his son hold the sign, Joseph took Jose to his school, where he made him admit his theft to school officials and a police officer.